All In Founder Stories
Anar
Smallest cheque turned out to be the largest value-add!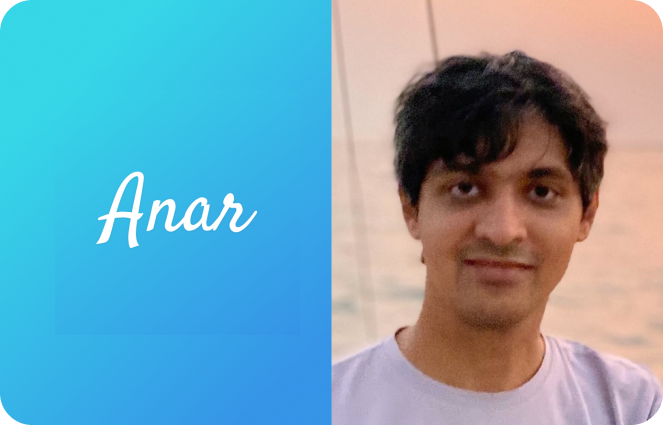 I first reached out to Kushal around April 2020 via a LinkedIn Cold DM. We spoke for a bit - Kushal seemed to like the idea but wasn't particularly blown away and asked us to come back after a couple of months with more progress. Kushal's public blogs said that he largely invested wherever his founder angel friends invest so we tried our luck by reaching out to a bunch of them that he had listed out but didn't get any response. We realized that literally, no one was investing right now (this was the early lockdown days!!) and decided to focus on our product for a bit. After a couple of months of hustle and some more growth we reached back out. Kushal this time loved the vision and our very early numbers but was still not getting entirely over the line. We had however put together a pool of committments from our friends and family and another known pressed fund had stepped in to lead the round so we had almost decided to close. In the meantime, one of Kushal's founder angel friends Harpreet Singh Grover (Cofounder of Cocubes) got back to us on a cold DM we had left him a few weeks back. He had a quick chat with us and wanted to invest! He called Kushal up and changed his mind but by then we had almost frozen our round structure so we were reluctant to make space. But we asked around and got overwhelmingly positive feedback + Harpreet had already pushed us so we decided to include Kushal - and boy am I happy we did! He not only moved super fast, but also pulled in another super helpful founder friend with him - Pawan Gupta (Cofounder Fashinza).
In Terms of cheque size - he is one of the smallest on our cap table but in terms of his value-add - he was clearly the largest. There's something about his calm and no-nonsense nature that makes it super easy to open up to him and share your biggest problems without any hesitancy. It's a lot like talking to a fellow founder who just gets it!
Throughout our journey, we would have regular check-in calls with Kushal. Each conversation would give us key takeaways on what's happening in the market, how we benchmark against other early-stage companies and what we should be focussing on.
In terms of cheque size - he is one of the smallest on our cap table but in terms of his value-add, he was clearly the largest.
A few months later we decided to raise our seed round but the fund-raise was actually quite painful. Most VCs we spoke to - just didn't get it. A couple of months of rejections from some of the best funds can be quite demotivating but Kushal would always be available to help cheer us up and introduce us to more investors. He kept reminding me that we need only one Yes so the Nos don't matter. He would keep reviewing our deck and narrative and constantly give us super helpful feedback, so we kept getting better at it after every pitch.
When none of the VCs were coming in - Kushal suggested that we do a convertible round to help extend our runway and then connected us to a bunch of Angels like Vidit Aatrey (Founder of Meesho), Ranjith (Founder of Pratilipi), and Utsav Somani (iSeed) who all quickly committed. In the meantime, a couple of the VC conversations we had earlier, suddenly turned warm, and now we had serious interest from not one by two leading VCs. This was not a situation I was used to being in and was honestly a bit overwhelming but again - Kushal was there to help up navigate it every step of the way. Due to his (and Pawan's!) timely advice, we were able to persuade both the interested funds to come in together and ended up structuring a massive $6M seed round. Kushal is incredibly well networked within the VC ecosystem in India and abroad, and is able to point out to the right partner within the right fund, with a warm intro - who would likely end up investing in your round. Besides that he got us access to discounts and credits to a bunch of services and products we use (AWS, Notion, Freshworks, Laptop rentals etc) which is super helpful at pre-seed with limited capital in the bank. So needless to say - if you are starting a company, there's no one else I would recommend more to have on your side - go get Kushal!
- Nishank Jain, Co-Founder and CEO, Anar.biz